Perhaps it's due to the holidays, perhaps I'm just in a green mood, but emerald is what I'm drawn to right now. There are tons of shades of green. Forest greens, lime greens, mustard greens, near brown greens, and the whole palette of blue greens starting with mint and ending in the deep and kind of mysterious emerald shades…
So today I will share some of my longings in this intriguing color.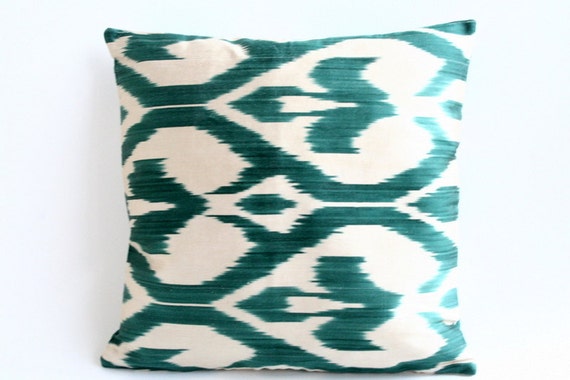 Pillow
seen on etsy – a shame o have a sofa in antique pink…
Emerald shades
ELLE DECOR
– they do a major upgrade to any room which can handle them.
A sophisticated arrangement by
Mary McDonald
- it might be to grown up for me but still I love the femininity and class of it. I want a mantelpiece!!!
Uhhh what a cozy and dark place to read, dream and enjoy the time… This one was made by
Kishani Perera
. Would I be brave enough for a bedroom like this?
Stockholm sofa by IKEA. Again – how to place this next to my antique pink sofa… I will need to go with the grey version of this.
Self-portrait by – do I really have to tell you by whom? I don't think so…
Kate Middleton
also loves the color and uses it manly on coats and dresses. This coat would look so perfect (in my closet…).
But be careful when using emerald green clothes: don't overdo it. Combine wisely and: less is better! Do it like Kate does: just one piece bright emerald and the rest in quite colors. If you have a more conservative cut to your emerald piece – combine it with a more conservative but feminine dark blue piece. Don't do the full peacock, just being a reminder of it but still keeping the outfit reserved. Let the colors shine – they will do the trick.